I think that there comes a time in every man's life when he wants a suede jacket and I am at that point. I have found myself staring longingly at suede jackets online for about 3 months now. I have yet to make a purchase and I think the biggest reason is that I question if I will wear it which relies heavily on the, can-I-make-it-look-cool question.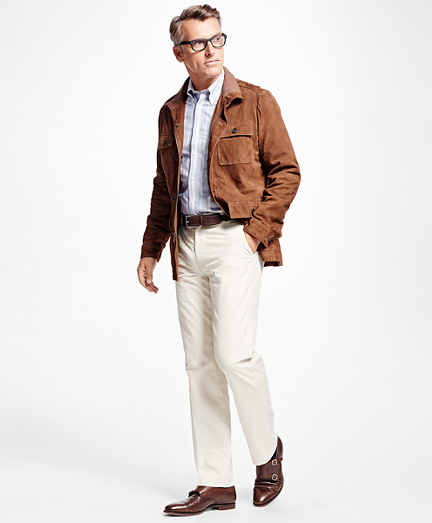 I have identified two types of suede jacket that may work for me. One is a safari style jacket and the other a baracuta jacket. Both have their advantages and disadvantages, primarily around length. I think that length is important here, because of how I intend to use my suede jacket which is casual. Yes I will wear it to work, but I am more excited to wear it out casually on the weekend.
If you are wondering I am leaning towards the baracuta style. I have one now (not suede) and I get a lot of wear out of it so I know that it will work well both casually and at work. Where as I think the safari jacket will work well at the office, but I think it may come off a little to 70's funky casually (especially if I paired it with my Wallabees). This segues to another question about footwear. Again, not an issue at the office. Luckily for us penny loafer work with everything, but what do I pair it with when I am not at the office?

The big question I keep coming back to, is are suede jackets cool? I am not asking in the, "Are they trad?," sense of the question, but rather can they be pulled off well. I harp on this because I struggle to recall a single time that I have seen man in a suede jacket and thought, "Wow, that looks great!" Most of the time I tend to focus on the jacket. So it is more like, "Wow, what a great suede jacket!
This another post where I could use reader feedback. Have you ever bought a suede or even leather jacket?  Do you wear it a lot? What do you pair it with? Was it worth the investment? Any buyers remorse?