I have been passively looking for a diamond quilted jacket with a moleskin or sueded type of finish on and off for the last 2 years. Something like this moleskin version of the Barbour Liddesdale (see below) would be perfect but I can't seem to find one. I also don't want to go the Ebay route. I found a few new coats that fit the bill or at least get close to the mark. If nothing else it is fun to look.


While I didn't find the Liddesdale above I did find the Barbour Bridle quilted jacket (see here) below. This jacket has a water resistant microfiber finish, comes in navy, has a corduroy collar, and overall looks decent. However, I think that the devil is in the details here. I wish the collar were tan, I wish it had snaps (which I wish were contrasting) and a zipper closure, and the blue could be bluer. At the same time it is only $199 and most Barbour that I have handled is fairly well made. I struggled to find a size small online, but I only spent a few moments searching.
I also came across this microfiber quilted jacket by English Utopia at O'Connells Clothing. It is easy to see why it stood out. It has a lot of character, kind of a moto vibe, and looks like it is very well made. While it is microfiber it is described as peached. This make me believe that it may have the texture that I am after. I owe Ethan at O'Connell's a call to get the exact details. There is more that I like about this jacket than dislike. I am not in love with the lime green lining or the suede on the arms, but I have already conviced myself that they will grow on me over time if that tells you anything. At $325 it is definitely on my radar (see here).

The quilted field coat below from Brooks Brothers grabbed my attention because its design. They nailed it. I like the design of this jacket a lot. It is polyester and gives no indicator that it has the texture that I want, but it sure does look nice. I may have to go see this jacket in person. One more good thing about my new location is that there is a Brooks Brothers store 20 minutes away. I am interested in the weight of the jacket. I am hoping that it has a little heft to it as it is priced at $398 but is on sale at the moment for $298 (see here).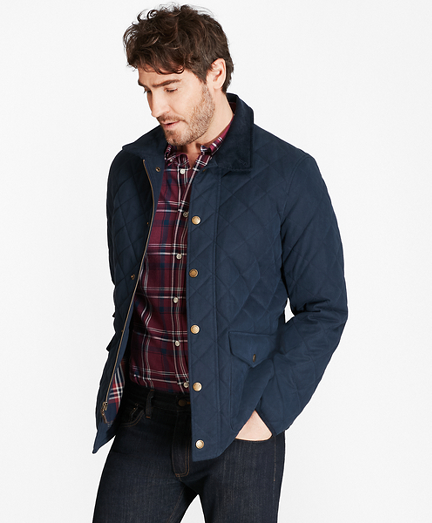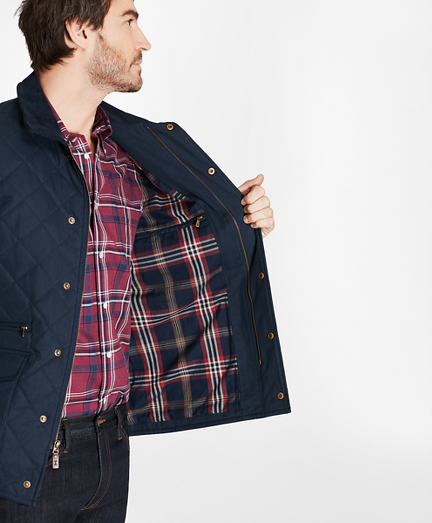 As it's just now getting cool enough to not feel miserable in long sleeves I am already thinking of the next layer. I want a well made quilted jacket that is not shiny or at the very least not that shiny. After looking at the options above I think I have to decide what role I want this jacket to play. Is it early fall or late fall? I know that I am leaning towards navy as I currently have a green Barbour and no navy coats. I might have to journey out into the real world and look at some jackets in person. As always leads and feedback is appreciated.